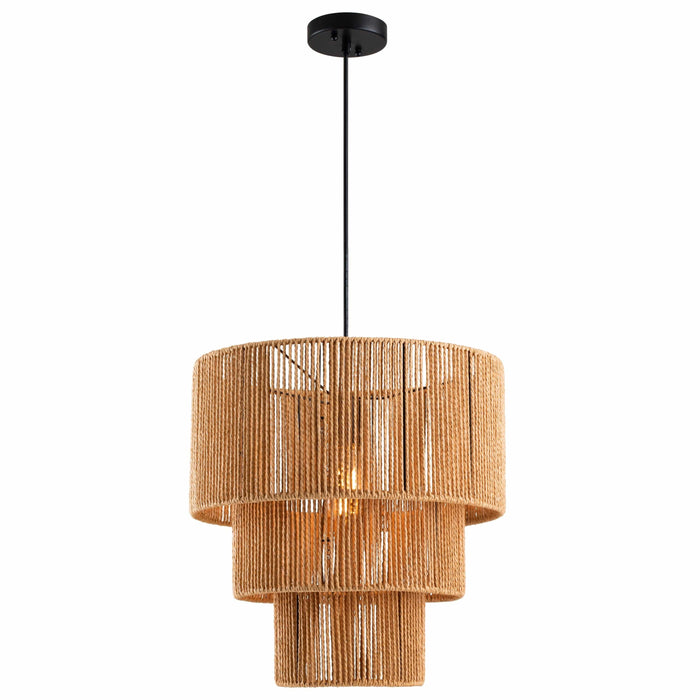 1-Light Black Tiered Jute Rope Chandelier
Sold out
Original price
$184.00
-
Original price
$184.00
Capturing a breezy coastal vibe for your home with this 1-light chandelier. With three tiers and a pleasing contemporary shape, this natural chandelier brims with ocean-inspired sophistication thanks to natural fine rope that's meticulously woven over a black metal frame. The composition of the rope allows for light to shine through creating a soft and unique glow. Place the chandelier in kitchen islands, dining rooms, entryways and master suites for an eye-catching, elegant look.
Coastal Design
Finely twisted jute is stretched over a black frame, creating a three-tiered pleasing pendant that brings a coastal style to your dining room or living space.
Tiered Jute Shade
Natural jute is wrapped around tiered drum frame and casts a filtered light creating a beautiful soft glow, brings a relaxed and casual atmosphere.
Adjustable Height
Suspended by a 70 in. black wire, the hanging height can be adjustable by cutting wire to customize the fixture according to your demand.
Product Dimension
The overall size is D17.5" x H87.25", the adjustable height is 70", the diameter of 3-tiered shades are 17.5", 12.75", 8", the canopy is D4.5" x H0.75".
Light up Your Space
Suitable for use in a kitchen, dining room, conservatory, lounge or hallway, this multi-functional jute lampshade is the perfect accompaniment to the rustic or boho style home.